Vacation Homes
Under 25 & Spring Break Rentals
Apartments and Residential Rentals
Specials & Packages
Accommodations
Golf
Recreation & Services
Tennis
Accommodations with Tennis Courts
Services
Crib Rentals
Wedding & Event Planning
Convention & Meeting Facilities
Real Estate
Vacation rentals for sale.
Vacation Homes
Newman-Dailey Resort Properties
Multiple Locations - Pet Friendly
Newman-Dailey Resorts has the largest variety of family oriented gulf front Destin and South Walton vacation rentals, including a large assortment of pet friendly condominiums and gulf front beach house rentals. Our guests enjoy the Newman-Dailey Gift Card, which includes FREE golf, theme park tickets, movie rentals and more.
Specials | Pet Friendly | Condos | Homes | 800.225.7652 | 850.837.1071
ResortQuest by Wyndham Vacation Rentals
Multiple Locations
Searching for the perfect place to hold a Family Reunion or Multi-Family gathering...or do you just want more room and privacy on your next vacation? From gulf-front homes - to homes in lovely beach communities, ResortQuest by Wyndham Vacation Rentals has your vacation home solution. Our vacation homes book quickly. Book online or call our 24 hour vacation hotline today!
Vacation Deals | Gulf Coast Vacation Rentals | 866.478.4402
Sandcastle Escapes
Multiple Locations
Premium Gulf Front and Gulf View Private Homes, Condos and Villas throughout the Destin and Beaches of South Walton destination. Exceptional standards in quality and convenience with keyless entry for a convenient check-in and finely appointed properties to exceed your accommodation expectations.
Destin Vacation Rentals | South Walton Rentals | Vacation Deals
Dale E Peterson Vacations
Multiple Locations
Dale E Peterson Vacations is the premier vacation rental source for Northwest Florida's Gulf Coast. We have over 200 vacation rental homes, condos and cottages available in Navarre, Fort Walton Beach, Destin, South Walton and Panama City Beach. Plan your vacation to the Emerald Coast today!
Vacation Specials | Vacation Rentals | Weddings | Real Estate
800.336.9669 | 850.654.4747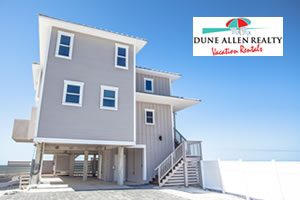 Dune Allen Realty Vacation Rentals
Multiple Locations - Pet Friendly
Give your family the vacation of a lifetime in a Dune Allen Realty Vacation Rental. Featuring exceptional gulf front homes and villas, seaside cottages and condos on the Beaches of South Walton and Destin. No matter your budget, whether gulf front, beach side or just a stroll to the world's most beautiful beaches, we will provide the perfect vacation getaway for your family.
Beautiful Beach Home | Specials | Featured Properties | 888.267.2121
Ocean Reef Resorts
Multiple Locations - Pet Friendly
Ocean Reef Resorts EST. 1982 carefully selects properties to ensure high quality and satisfaction for our guests. Currently, we offer over 400 luxury homes and condominiums along the Gulf Coast. Ask us about our suite of daily free amenities. We specialize in these areas:
Destin | 30-A | Panama City Beach | Pet Friendly | Real Estate
800.782.8736 | 850.837.3935
Sandestin® Golf and Beach Resort
Sandestin®
Sandestin® Golf and Beach Resort offers the most complete resort experience in North America. Sandestin is a 2,400-acre destination resort for all seasons and for all ages. Boasting more than 30 charming neighborhoods, Sandestin features 1,500 condominiums, villas, town homes and a wide variety of hotel accommodations.
Rates/Specials | Accommodations | Amenities | Weddings | Meetings 800.622.2553
Hidden Dunes Beach & Tennis Resort - Managed by Newman-Dailey
Destin
Nestled among nature and the Gulf of Mexico, Hidden Dunes Beach & Tennis resort will take you back to a time where you had more time… more time to take a picnic on the beach… more time to perfect your tennis game… more time with family. Featuring beachfront condos, cottages and villas, multiple swimming pools and hot tubs and six clay tennis courts fully staffed with USPTA professionals.
Book Online | Resort | Tennis | Deals | 800.225.7652 | 850.837.1071
Garrett Realty Services
Multiple Locations
South Walton Beaches - Seagrove, Seacrest, Inlet Beach - Over 260 vacation condos, homes, townhomes, and duplexes. Gulf front and beach access rentals in all price ranges. Ask about our golf discounts and recreation value pack.
Specials | Reservations | Real Estate | 800.537.5387 | 850.231.1544
Vacation Homes
A Beach Blessing Multiple Locations - Pet Friendly
Destin - Pet friendly condos & house in Destin, Florida, we offer condos from 1 to 3 bedrooms/2 baths, all have upscale decor, with direct Gulf Front views and complimentary beach service on beautiful Miramar Beach. Visit our photo gallery for complete details.
888.359.3030 | 850.650.5524
Absolutely Beautiful Destin Florida by Mara Lee Multiple Locations
Destin - Gulf front and beach access condos and vacation homes located in the resort communities of Maravilla and Beach Retreat located in (Destin) Miramar Beach. Private beach, spa, 2 pools, clubhouse, exercise room, tennis courts, and more.
Specials | Rates | 913.338.2372
Counts-Oakes Resort Properties Multiple Locations - Pet Friendly
Panama City Beach and the Beaches of South Walton - We have a large selection of condos, town-houses, resorts and beach homes in Panama City Beach, South Walton, and Hwy 30-A area. Pet friendly, long term and executive properties.
Specials | 800.621.2462 | 850.235.4075
Dale E Peterson Vacations Multiple Locations
Dale E Peterson Vacations is the premier vacation rental source for Northwest Florida's Gulf Coast. We have over 200 vacation rental homes, condos and cottages available in Navarre, Fort Walton Beach, Destin, South Walton and Panama City Beach. Plan your vacation to the Emerald Coast today!
Vacation Specials | Vacation Rentals | Weddings | Real Estate | 800.336.9669 | 850.654.4747
Destin Getaways Multiple Locations - Pet Friendly
Destin, Sandestin®, South Walton -- offering some of the finest home & condo vacation rentals along the Emerald Coast. When you stay with us… you play on us. Free daily golf and deep sea fishing trips. Call today for your Destin Getaway 866.612.0125.
Reservations | Golf/Amenities | Specials | Pet Friendly Rentals | Real Estate | 866.612.0125
Dune Allen Realty Vacation Rentals Multiple Locations - Pet Friendly
Give your family the vacation of a lifetime in a Dune Allen Realty Vacation Rental. Featuring exceptional gulf front homes and villas, seaside cottages and condos on the Beaches of South Walton and Destin. No matter your budget, whether gulf front, beach side or just a stroll to the world's most beautiful beaches, we will provide the perfect vacation getaway for your family.
Beautiful Beach Home | Specials | Featured Properties | 888.267.2121
Garrett Realty Services Multiple Locations
South Walton Beaches - Seagrove, Seacrest, Inlet Beach - Over 260 vacation condos, homes, townhomes, and duplexes. Gulf front and beach access rentals in all price ranges. Ask about our golf discounts and recreation value pack.
Specials | Reservations | Real Estate | 800.537.5387 | 850.231.1544
Hidden Dunes Beach & Tennis Resort - Managed by Newman-Dailey Destin FL
Nestled among nature and the Gulf of Mexico, Hidden Dunes Beach & Tennis resort will take you back to a time where you had more time… more time to take a picnic on the beach… more time to perfect your tennis game… more time with family. Featuring beachfront condos, cottages and villas, multiple swimming pools and hot tubs and six clay tennis courts fully staffed with USPTA professionals.
Book Online | Resort | Tennis | Deals | 800.225.7652 | 850.837.1071
Hidden Dunes Beach & Tennis Resort - Managed by Resorts Realty Group Destin FL
Destin - Gulf front – Private gated preserve. Large assortment of Gulf front condos, dune woodland cottages and spacious villas surrounded by a lake, nature trails, pools, water gardens, tennis courts and a basketball court. Resort Realty has been "creating lifelong memories one vacation at a time" at Hidden Dunes for more than 20 years.
Vacation Rentals | 800.824.6335 | 850.837.3521 | Canada 888.505.GULF
Holiday Isle Properties Multiple Locations - Pet Friendly
Destin / Okaloosa Island - Condos, homes and townhouses. Looking for that perfect vacation spot, nestled in between sugar white sands and emerald green waters? Welcome to Holiday Isle, a vacationer's dream in Destin Florida for vacation rentals and home sales.
Rentals | Real Estate | 800.837.5102 | 850.837.0009
Newman-Dailey Resort Properties Multiple Locations - Pet Friendly
Newman-Dailey Resorts has the largest variety of family oriented gulf front Destin and South Walton vacation rentals, including a large assortment of pet friendly condominiums and gulf front beach house rentals. Our guests enjoy the Newman-Dailey Gift Card, which includes FREE golf, theme park tickets, movie rentals and more.
Specials | Pet Friendly | Condos | Homes | 800.225.7652 | 850.837.1071
Ocean Reef Resorts Multiple Locations - Pet Friendly
Ocean Reef Resorts EST. 1982 carefully selects properties to ensure high quality and satisfaction for our guests. Currently, we offer over 400 luxury homes and condominiums along the Gulf Coast.. Ask us about our suite of daily free amenities. We specialize in these areas:
Destin | 30-A | Panama City Beach | Pet Friendly | Real Estate | 800.782.8736 | 850.837.3935
ResortQuest by Wyndham Vacation Rentals Multiple Locations
Searching for the perfect place to hold a Family Reunion or Multi-Family gathering...or do you just want more room and privacy on your next vacation? From gulf-front homes - to homes in lovely beach communities, ResortQuest by Wyndham Vacation Rentals has your vacation home solution. Our vacation homes book quickly. Book online or call our 24 hour vacation hotline today!
Vacation Deals | Gulf Coast Vacation Rentals | 866.478.4402
Sandcastle Escapes Multiple Locations
Premium Gulf Front and Gulf View Private Homes, Condos and Villas throughout the Destin and Beaches of South Walton destination. Exceptional standards in quality and convenience with keyless entry for a convenient check-in and finely appointed properties to exceed your accommodation expectations.
Destin Vacation Rentals | South Walton Rentals | Vacation Deals
Sandestin® Golf and Beach Resort Sandestin®
Sandestin® Golf and Beach Resort offers the most complete resort experience in North America. Sandestin is a 2,400-acre destination resort for all seasons and for all ages. Boasting more than 30 charming neighborhoods, Sandestin features 1,500 condominiums, villas, town homes and a wide variety of hotel accommodations.
Rates/Specials | Accommodations | Amenities | Weddings | Meetings | 800.622.2553
Southern Vacation Rentals Multiple Locations - Pet Friendly
Get ready for a sweet Southern experience. Plan your next vacation to the beaches of Northwest Florida with Southern Vacation Rentals. Offering a variety of beach homes and vacation condos in Destin, Ft. Walton Beach, Pensacola Beach, Navarre Beach, South Walton, and Panama City, Southern has the perfect vacation rental for your next getaway.
Beach Vacation Specials | Real Estate | 866.409.3631